Here are just a few things our Team is involved in throughout our community!
Fishes and Loaves
RAYMORE, MO (04/10/2023) - Community Bank had the pleasure of presenting a check to a wonderful organization who provides food for local families in need. Thanks to Fishes 'n Loaves of Raymore and all of their hardworking volunteers for blessing our community!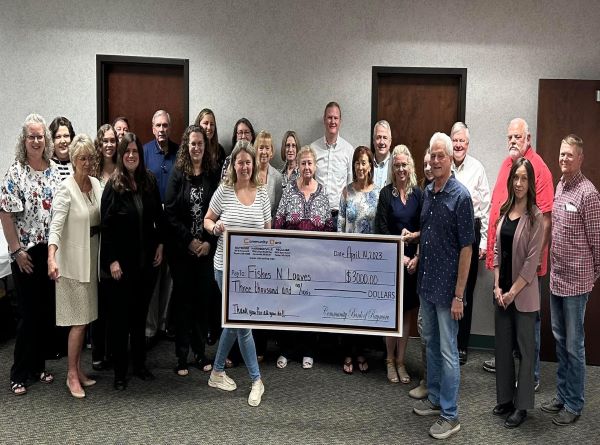 Check Presentation to Caring Hearts of Peculiar
PECULIAR, MO (02/16/2023) - We had the opportunity to present a check to Caring Hearts of Peculiar, a local non-profit organization this week! The mission of Caring Hearts of Peculiar is to provide financial support for various health, education and welfare needs within the community. We are happy to be a small part of such a wonderful organization who showcases compassion and commitment to serving others!
For more information about Caring Hearts of Peculiar, visit https://www.caringheartsofpeculiar.com/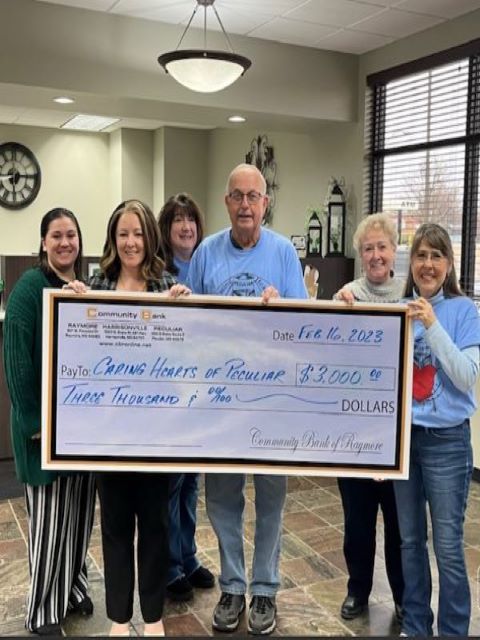 Christmas Tree Trail at T.B. Hanna Station
RAYMORE, MO (12/03/2022) – Each year, we always look forward to boosting holiday spirit by participating in the City of Raymore Mayor's Tree Lighting & Christmas Tree Trail!
This year we chose to show some love for the furry friends in our community as they add a special touch to our lives!
Thank you to the Raymore Parks and Recreation for organizing this festive family event in our community.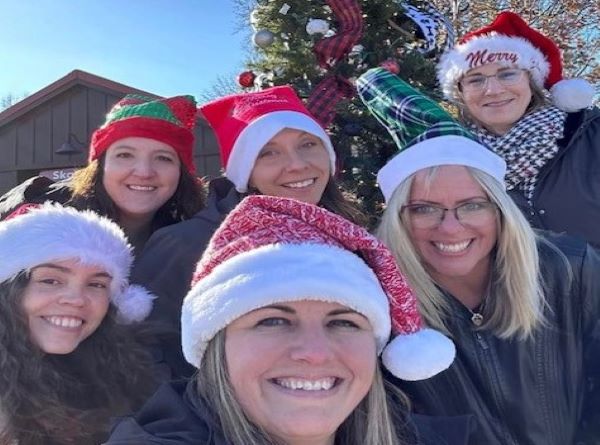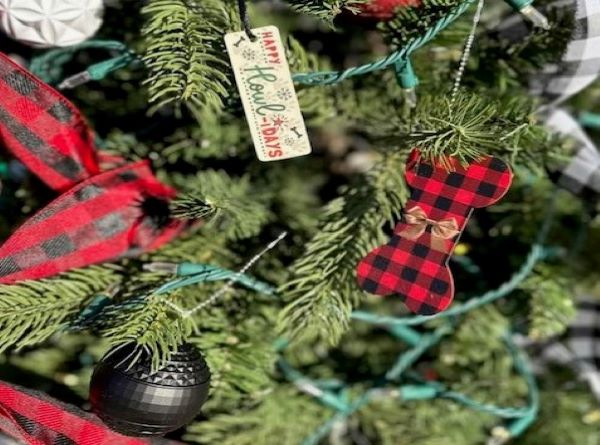 4th CBR Operation: Gratitude
RAYMORE (12/14/2022)- Our 4th Annnual Operation Gratitude mission was an immense success! Thank you to everyone who helped contribute to our efforts in bringing holiday cheer to those currently bravely serving our country. We are THRILLED to share our results:
230 individualized, festive care packages were crafted and sent.
Recipients included those actively serving in the Air Force, Army, Marine Corps and Navy.
Deployed destinations included: Iraq, Africa, Undisclosed and On Ship.
Included in these efforts, 7 military members serving stateside received care packages.
Over 750 thank you notes were handwritten by local students, daycare children and community members!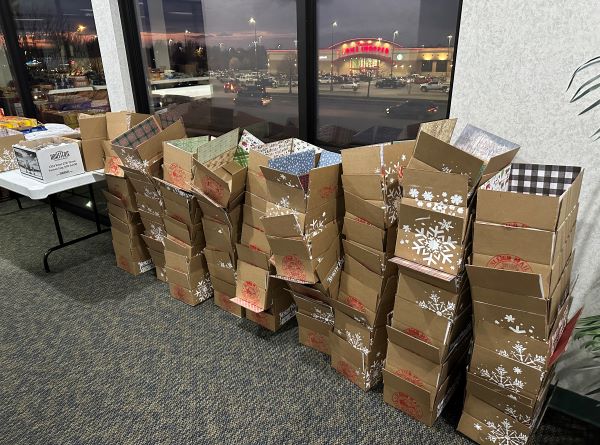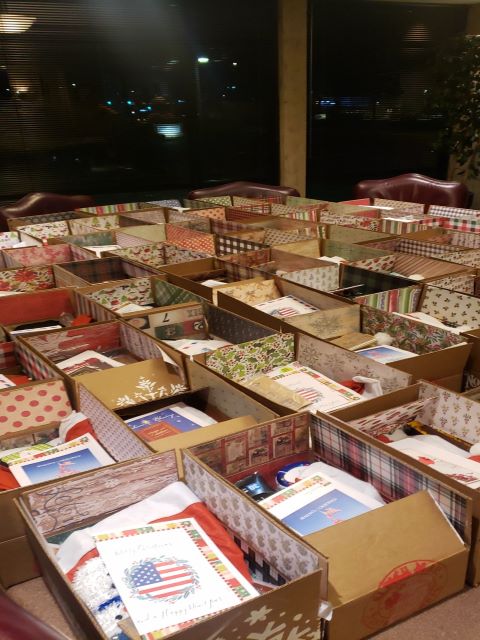 Stuff the Bus
RAYMORE, PECULIAR & HARRISONVILLE, MO (8/31/2022) Community Bank of Raymore concluded their 14th annual "Stuff the Bus" School Supply Drive and once again yielded impressive results. The main objective of "Stuff the Bus" is to fill a need in our community by giving children the basic, yet essential tools they need to have a worry-free start to a new school year. The 2022 event raised over $7,000 in monetary donations, while awe inspiring piles of donated school supplies formed in the bank lobbies! Approximately over 650 local students attending Ray-Pec, Cass Midway and Harrisonville School Districts benefitted from this collective effort. Community Bank of Raymore would like to give a very special thank you to our local business partners, clients and residents of the community for their help in making this event successful.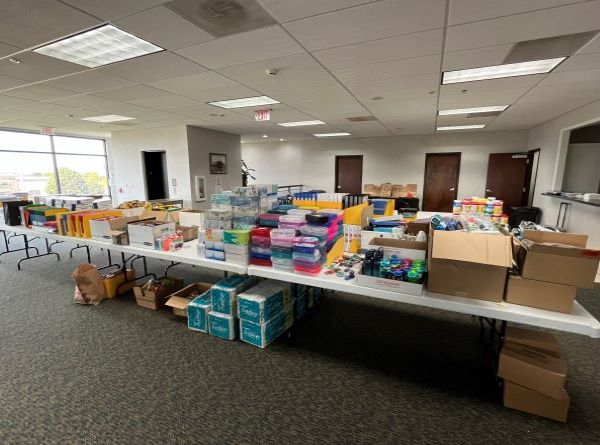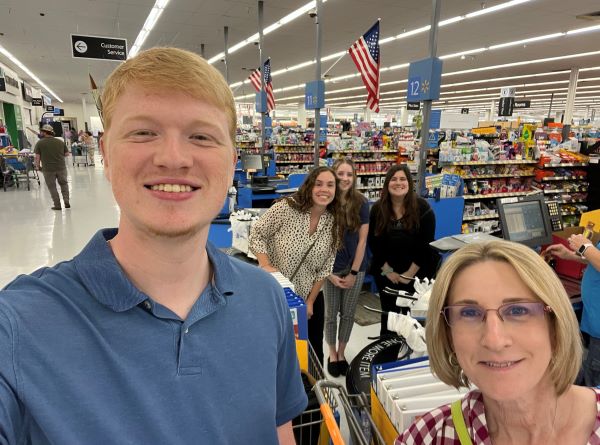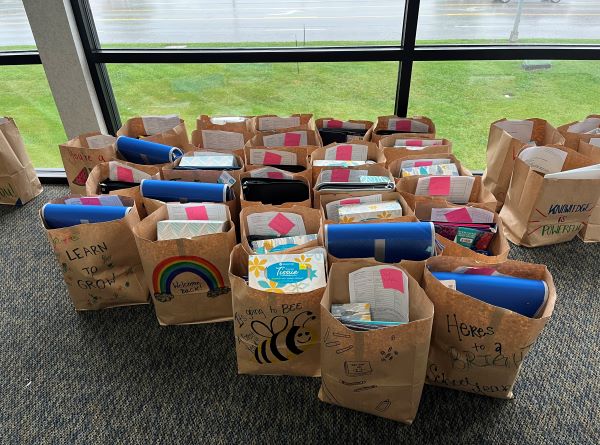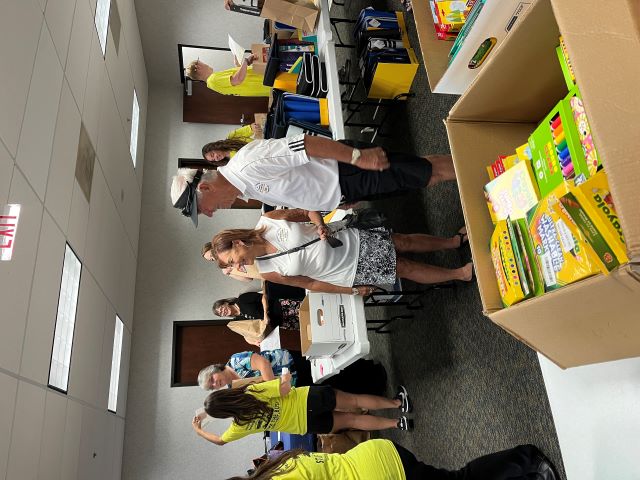 Check Presentation to Bright Futures Harrisonville
HARRISONVILLE, MO (02/10/2022) – We are happy to support such a phenomenal organization in our community!
Bright Futures Harrisonville is an organization that strives to help students achieve success by matching student needs with resources through partnerships between the schools and the community. From filling backpacks with food for over the weekend to providing supplies for the school year, Bright Futures steps up to make sure no child is left behind.
To learn more about Bright Futures of Harrisonville or to get involved, visit https://www.harrisonvilleschools.org/brightfutures .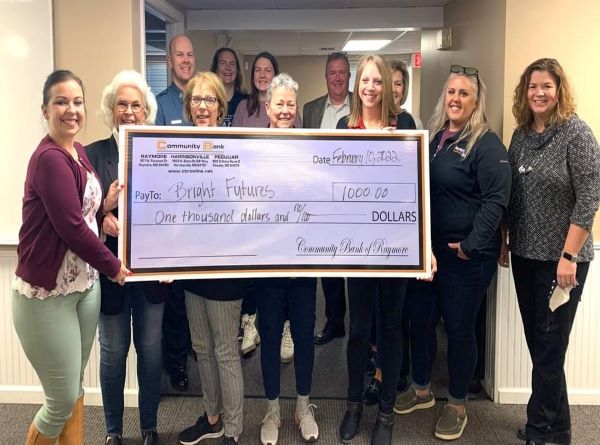 Helpful Community Links